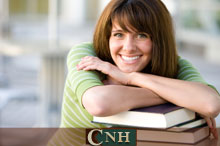 The College of Natural Health (CNH) is a national and international accredited distance learning college, granting post-secondary holistic natural health degrees, holistic nutrition degrees, sports nutrition degrees, and sports nutrition certifications.
We are accredited by the "A.A.D.P." (The American Association of Drugless Practitioners) for our secular programs and accredited by the "W.W.A.C." (The World-Wide Accrediting Commission of Christian Educational Institutions) for our non-secular programs, which ensures that our students will be well qualified at the post-secondary level after completing our educational programs.
The quality and standards of our course instruction and methods are maintained at the highest, educational level: "in keeping with our Natural Health philosophy."
Natural Health Distance Learning Programs
We are a long distance institution of higher learning. Our home study programs allow students to study and work at their own pace and in their own personal environment. Initially, most students will enroll in a program to learn the basics to improve their immediate situations. Excited by what they learn, many will just naturally want to share this knowledge! Our curriculum teaches these students to share their studies in both formal and informal settings and will help provide the skills they need.
Students often see themselves taking on part-time or full-time Careers in Natural Health; and for these motivated individuals, the sky is the limit above this new field of dreams!
Students benefit from the college's flexible and innovative approach to health and nutrition.
Never has there been such an extensive, natural health study program. You will be well satisfied with your new-found knowledge of nature, and your perceptions and approach toward wellness will be unparalleled by any other system of health care in the world!
Ecclesiology Inc.
College of Natural Health
3815 River Crossing Parkway, Suite 100
Indianapolis, IN 46240
Telephone: 1-888-397-9394 or 1-877-431-1962